Tips for Artists & Crafters
The Mount Dora Craft fair receives more than 600 applications to fill 425 spaces each year. Here are some ways to get an edge on the competition.
All applications require photos.
Good photos representing your product are important but so is a good shot of your booth set up. If it comes down to choosing one of 2 similar type exhibitors, the better booth set up will have a better shot of being Approved.
Having a photo of YOU making your product is huge. 95% of all exhibitors who show photos of themselves working in their shop or even better,  demonstrate live will be accepted.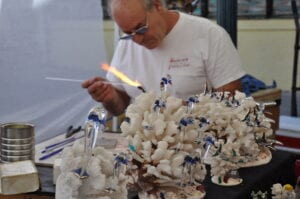 Everyone likes to think  " There is nothing like what I have"… Prove it! Unusual and Unique exhibitors get high marks at our events.
Make sure  you tell us in your description so that we don't gloss over your photos and move on to the next application.  
If you are applying to a themed event such as the Blueberry Festival or Plant and Garden Fair, explain how your product ties into the theme of the event. Closely related items will give exhibitors an edge over other applicants.    
Requesting a certain street or area at an event is fine. We are well aware of needs to be in the sun, shade etc but applicants who DEMAND to be on a certain street or area just because they think their product deserves to be showcased above everyone may not even make it to Approved. Of course we will try to accommodate everyone's wishes but if we don't have any open spaces and it's a "Donnelly St or Die" remark, you'll probably be moved to the Wait List.  
If you are audited and have items that were not noted in your application, you risk being rejected in the future.
NEVER BREAK DOWN EARLY before the published end time of any festival . You WILL be blacklisted from future events.